Cryptos et régime de marchés
Il faut parfois savoir sortir des sentiers battus pour mieux cerner les enjeux de valorisation de vos thèmes d'investissement préférés.
Jemima Kelly de FT Alphaville en donne une excellente illustration dans "Crypto conferences ain't what they use to be".
Un compte-rendu drôle, caustique et croustillant d'une conférence londonienne intitulée : "Blockchain and the Future of Humanity: Economy. Environment. Ethics". Rien que cela !
Attention cependant : les questions de fond, elles, n'ont hélas rien d'amusant et un goût de déjà vu bien connu dans cette période de finance bling bling à air pulsé.
Blockchain et '4IR'
On y parle évidemment de blockchain ou 'distributed ledger technology', de ses aspects disruptifs de 'game changer', de son importance pour la 4ème révolution industrielle – '4IR' pour les intimes – ou encore de ses impacts sur le bien-être de la Société.
Une rhétorique bien rodée qui ne semble visiblement pas trop impressionner J. Kelly :
The problem — as so often in the world of blockchain — was trying to make sense of any of it. Lord Holmes told the audience:

"Reasons to be cheerful – we know everything we need to know to make a success of blockchain, of AI, of all of the elements of 4IR. We know everything we need to know because we know economics, politics, psychology, social theory, behavioural theory, on and on and on. We know all of it, we just have to optimise it, and to understand that these things aren't to be afraid of."

Yeah! When did everyone stop optimising stuff? 
C'est bien sur la forme de cet événement que l'air du temps devient le plus significatif :
The rest of the conference was also a little unusual. It had caught our attention because of an impressive line-up that included Republican Senator Lindsey Graham, Apple cofounder-turned-token-offerer Steve Wozniak, and "Bitcoin Jesus" himself, Roger Ver. But none of those people actually showed up. A pre-recorded video of Ver was played on Tuesday. The other two were not mentioned.

For an event that was pitched to us as "not just any crypto conference, but the crypto conference", we thought we might at least get a mini pain au chocolat and some watery coffee, but no. The "networking breaks" featured no refreshment, and the "networking lunch" featured… no lunch! "We made a mistake with the programme", the compere told the audience. "It's a self-organised lunch."

We were later told by the conference organiser that it was too expensive to put on lunch. As members of the media, we didn't pay for our tickets so didn't mind too much popping out to Pret during the break, but we might have been a bit peeved if we'd spent the £660 the conference tickets cost — plus VAT — without being given so much as egg and cress sandwich.
Problème d'organisation ou … manque de momentum ?
Le "Halloween Crypto Gala & Awards Giving Ceremony" nous en dit un peu plus :
For another £800 plus VAT it was possible to buy a ticket to the "Halloween Crypto Gala & Awards Giving Ceremony", at another venue near Trafalgar Square. This was a glitzy affair featuring actual food and drink, an £8m Stradivarius violin and some awards, which all somehow went to attendees of the gala!

One of the award recipients was HYGH, a Berlin-based blockchain firm, who won ICO of the year. They also happened to be one of the conference's main sponsors.
Bulle des cryptodevises
De là à s'intéresser de plus près à la bulle des cryptos il n'y a naturellement qu'un pas :
But the conference's failure to generate money — or even to successfully cover up the fact it was struggling — was telling. Only a few months ago, when the crypto bubble had definitely already started to burst, people were at least still trying to pretend it hadn't -remember the pair of Aston Martins being "given away" at the Consensus conference in May? And the hired lambos? 

We're no crypto analysts, but we'd read the idea that a couple of sarnies are too expensive for a conference to lay on as a bearish signal.
Tout est dit …
Ou presque s'agissant des motivations profondes des bienfaiteurs de l'Humanité, des mécènes de l'Ethique et des sponsors de l'Environnement : le 'G' de gouvernance mérite définitivement de passer au premier plan des préoccupations de la finance avant qu'elle ne devienne 'responsable'.
Enfin ce graphique pour la sagacité de nos amis techniciens: à votre avis, les cryptodevises (ici le bitcoin) sont-elles immunisées contre le changement de régime de risque, de style et de valorisation qui caractérise les marchés financiers, ou l'avaient-elles au contraire déjà annoncé ?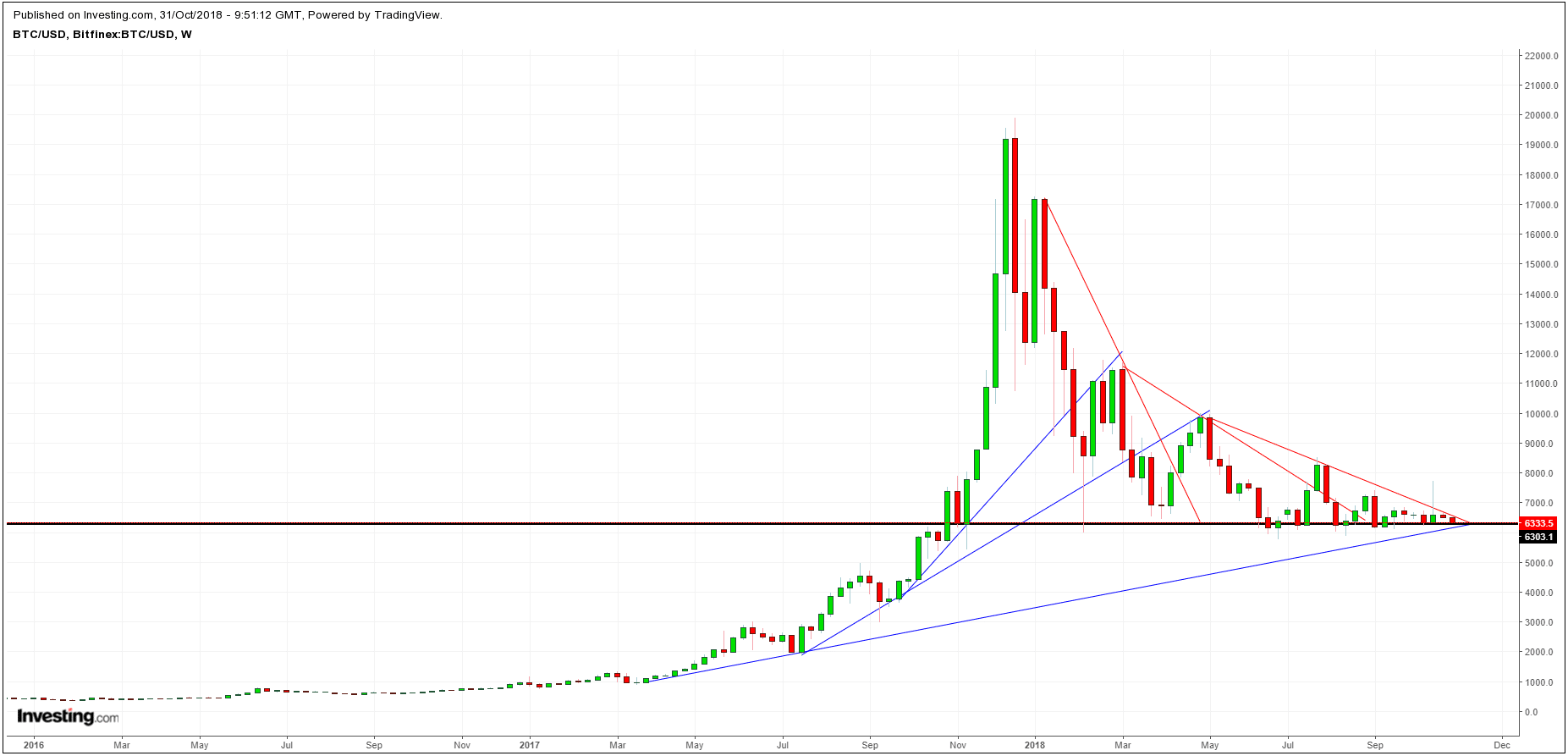 Jacques