Croissance mondiale en fin de cycle
Encore une statistique 'inattendue' qui nous renseigne sur l'état de santé de la croissance mondiale.
Elle n'a rien d'inattendu. Le fait qu'elle se loge au cœur de l'économie américaine – la sacro-sainte consommation – devrait nous alerter sur la fragilité de la croissance réelle et la marge de manœuvre des autorités publiques.
Une dynamique abrupte
Les ventes au détail US ont chuté de -1.2% entre novembre et décembre 2018, une tendance baissière renforcée par des révisions significatives sur les deux mois précédents.
FRED Economic Research, l'excellent site de la Réserve Fédérale de St-Louis, l'illustre parfaitement dans ce graphique :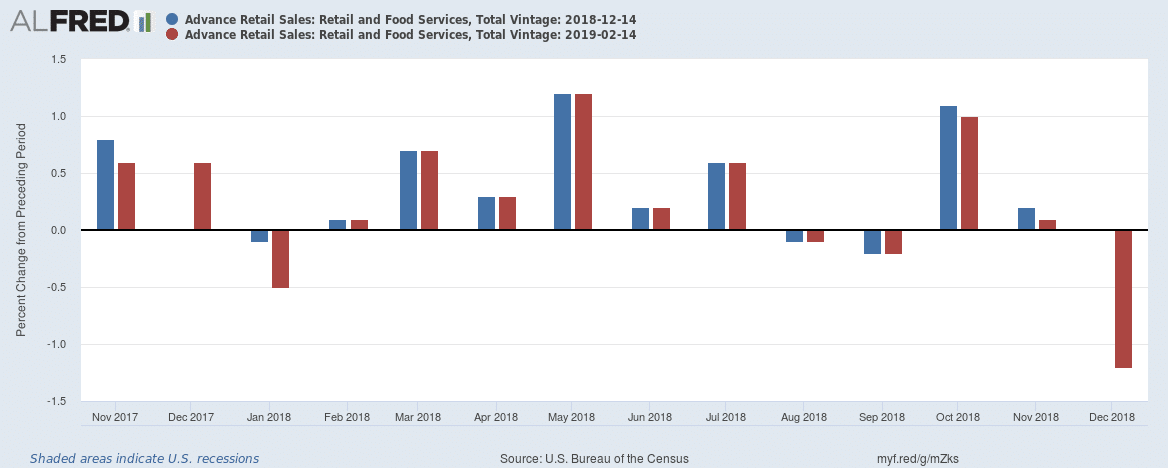 Comme le laisse entendre le Financial Times dans "US key holiday retail sales shrink by most since 2009", l'ampleur de la correction mérite un angle d'observation bien plus large.
Dans le temps tout d'abord: il faut en effet remonter au début de ce cycle économique pour retrouver pareil sismographe :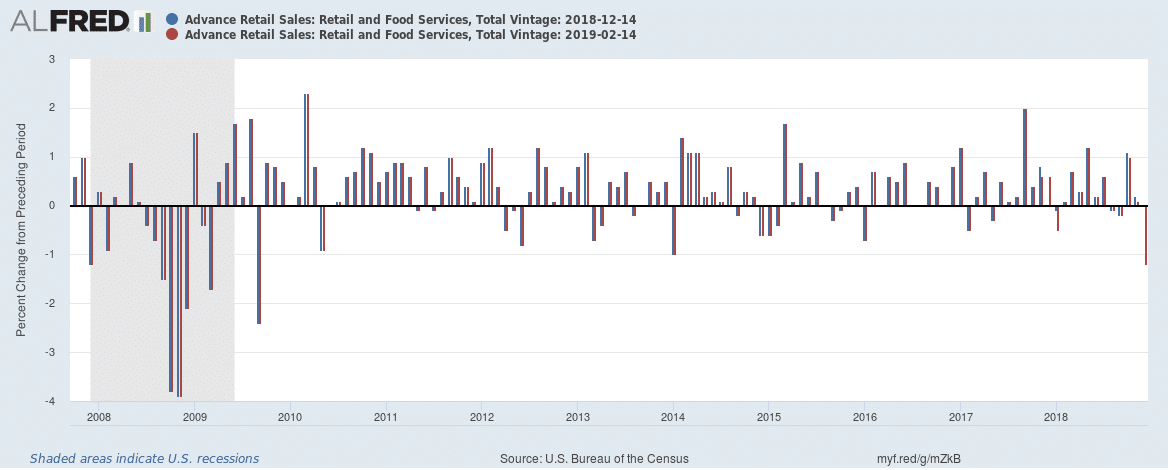 Géographiquement ensuite : de nombreux indicateurs révèlent un 'effet rideau' similaire à celui-ci.
Ce que le Financial Times ne manque pas de rappeler :
"The retail numbers are by no means the only sign of a slowdown in the US. Optimism among consumers and small businesses retreated in January as the federal shutdown damped spirits. The picture overseas is worse — indicators of global trade and manufacturing activity have been retreating as worries about trade tension and slowdowns in China and Europe affect corporate sentiment."
Illustration à travers l'indicateur avancé 'IHS Markit Flash Eurozone PMI' qui, fin janvier déjà, pointait dans la même direction :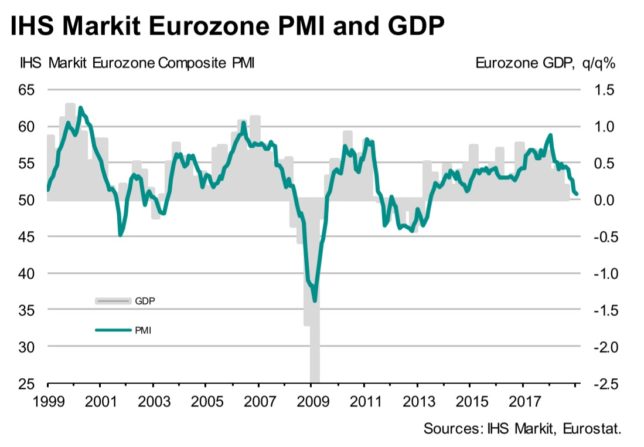 Le coup de fatigue cyclique, américain et mondial, apparaît plus clairement dans ce graphique du blog calculatedrisk. Les données sont présentées en glissement annuel: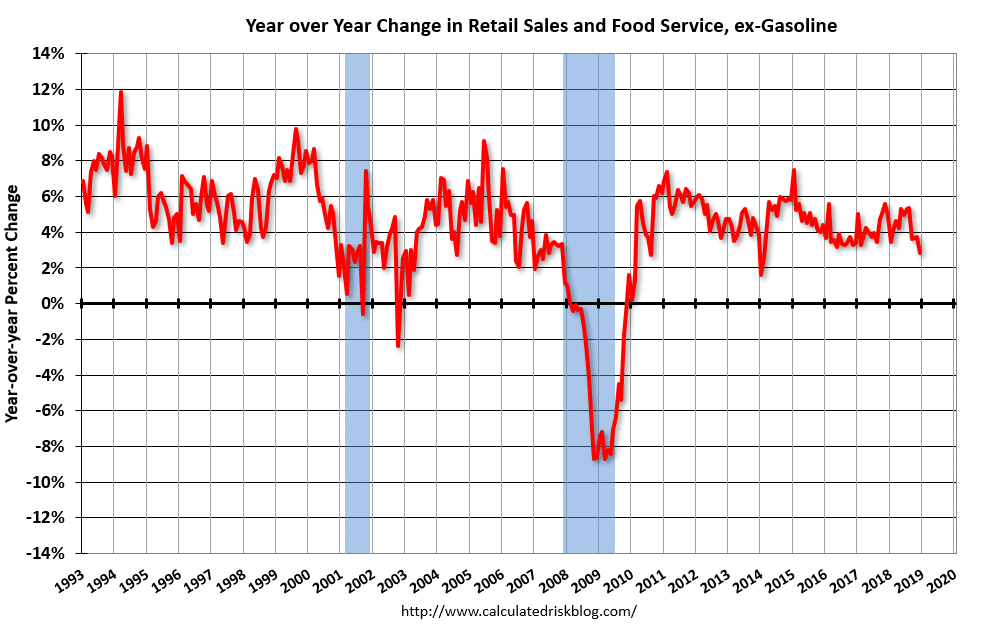 La fin du miracle publique?
Propositions:
Cette statistique rejoint un faisceau d'indicateurs économiques mondiaux dont la dynamique de 'coup de rideau' interpelle
Les turbulences boursières de l'année passé en font vraisemblablement partie …
… même si l'activisme des banques centrales, les respirations boursières et bien-entendu la rhétorique qui les accompagnent minimisent quelque peu leurs effets
La question d'une récession (technique, spécifique, idiosyncratique, you-name-it) devient dès lors assez secondaire: c'est bien la dynamique baissière qui importe
La consommation US ne peut pas se soustraire à une contraction de crédit de cette ampleur
La croissance européenne ne fera que suivre sa grande sœur américaine, avec quelques problèmes structurels en plus
Les autorités publiques font face à des problèmes de taille qu'elles ont pour partie alimentés …
… à commencer par un levier économique considérable qui retrouve aujourd'hui les joies de l'attraction terrestre.
Rideau!
Jacques